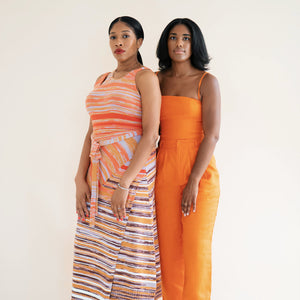 Skin health is health
We're on a mission to offer expert guidance in holistic health and skincare to empower you to find the best solutions for you and your complexion.



"The skin is a looking glass into what is occurring within our bodies"
Añuli is a pioneering brand of African beauty also known as A-Beauty. A-Beauty is opulent and decadent; nourishing the skin and body with clean, natural, high-performing ingredients from the bountiful biodiversity of Africa. Añuli is bringing light to the dynamic beauty perspective of the continent. Our products embody our belief in a minimalist approach to daily skincare.

Añuli was founded by registered nurses, Kelechi Onyemelukwe and Rishea Casselle.

After bonding over their search for the most effective products for their skin tones and types, they set out to share a fresh approach to skincare—pairing clinical expertise with the natural power of African botanicals.


Years later, their appreciation for the powers of science and nature led to the creation of Añuli, and our first product—the Daily Supplement Serum.

A powerhouse solution, Daily Supplement Serum embodies our core purpose: to provide multi-effective skin care while spotlighting Africa's opulence and biodiversity.

While doing so, we also seek to bridge the gap between skin and healthcare by sharing candid insight into the steps we can take to nurture the largest organ of our bodies—from the inside and the out.
We seek to not only support your skin, but to support pathways to success, health and joy for women and children around the world. That's why we dedicate 1% of our profits to charitable organizations and non-profits committed to their empowerment.
shop now
Woman
Owned
Black
Owned
Cruelty
Free
Woman & Child
Advocacy
Eco-Friendly
Packaging